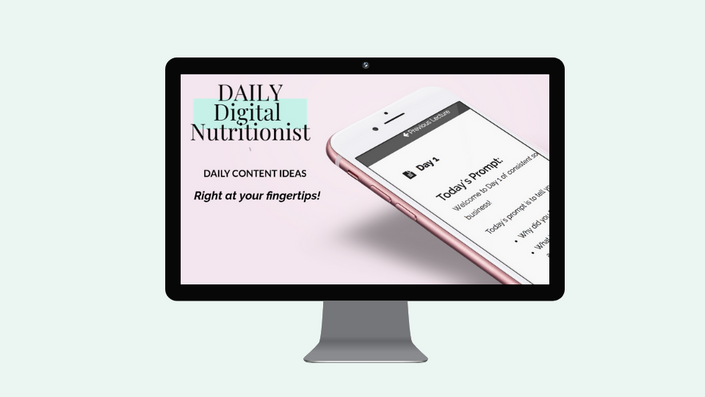 Daily Digital Nutritionist™️ MEMBERSHIP
DAILY Social Media Prompts (for *any* platform) Strategically Geared Towards Helping You Build Your Audience, Income, and Impact Online!
Enroll in Course
Imagine waking up every morning and having a done-for-you social media 'prompt' right at your fingerprints...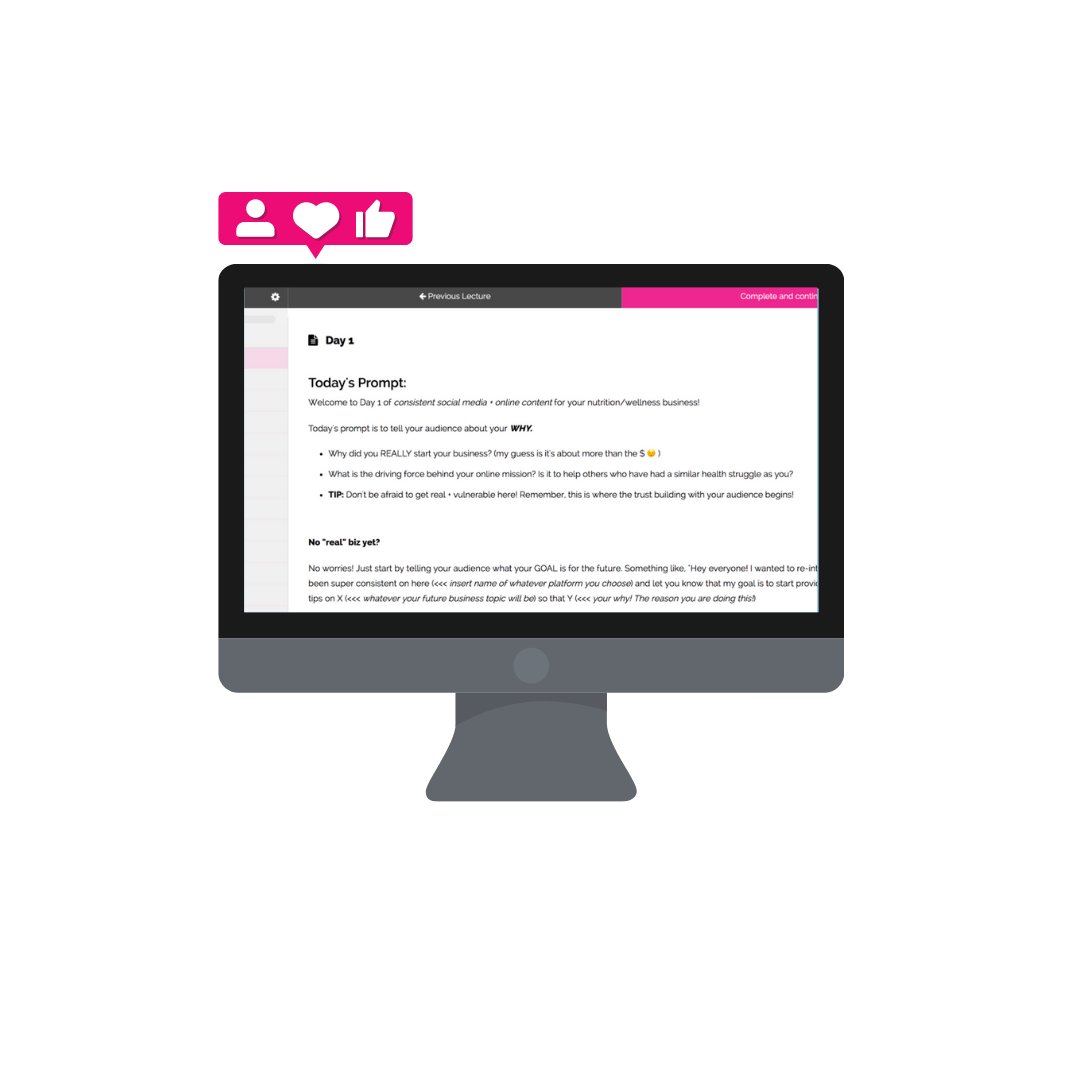 That was strategically designed to...
1. Engage and inspire your *ideal* audience
2. Grow your following + reach more of the *right* people online
3. Generate MORE sales of your products, courses, or coaching 🙌🏽
So that you never have to waste another minute trying to figure out…
"OMG…what do I even *say* on Instagram stories?"

"How do I create an engaging Facebook caption?"

"What should I write in my e-mail newsletters?"

"How do I stay consistent online, without wasting HOURS on a 30-day content plan?"

"What would I even create a YouTube video about?!"

How do I get my audience to actually RESPOND to what I say?

"How do I make sure I convey my "niche" without sounding like a robot?"
Now all of the guesswork is done FOR you and you NEVER have to wonder "what should I post today?" ever again.

These 'prompts' (<< aka content creation ideas) are aimed at engaging, growing, and selling your audience - all in less than 15 minutes per day.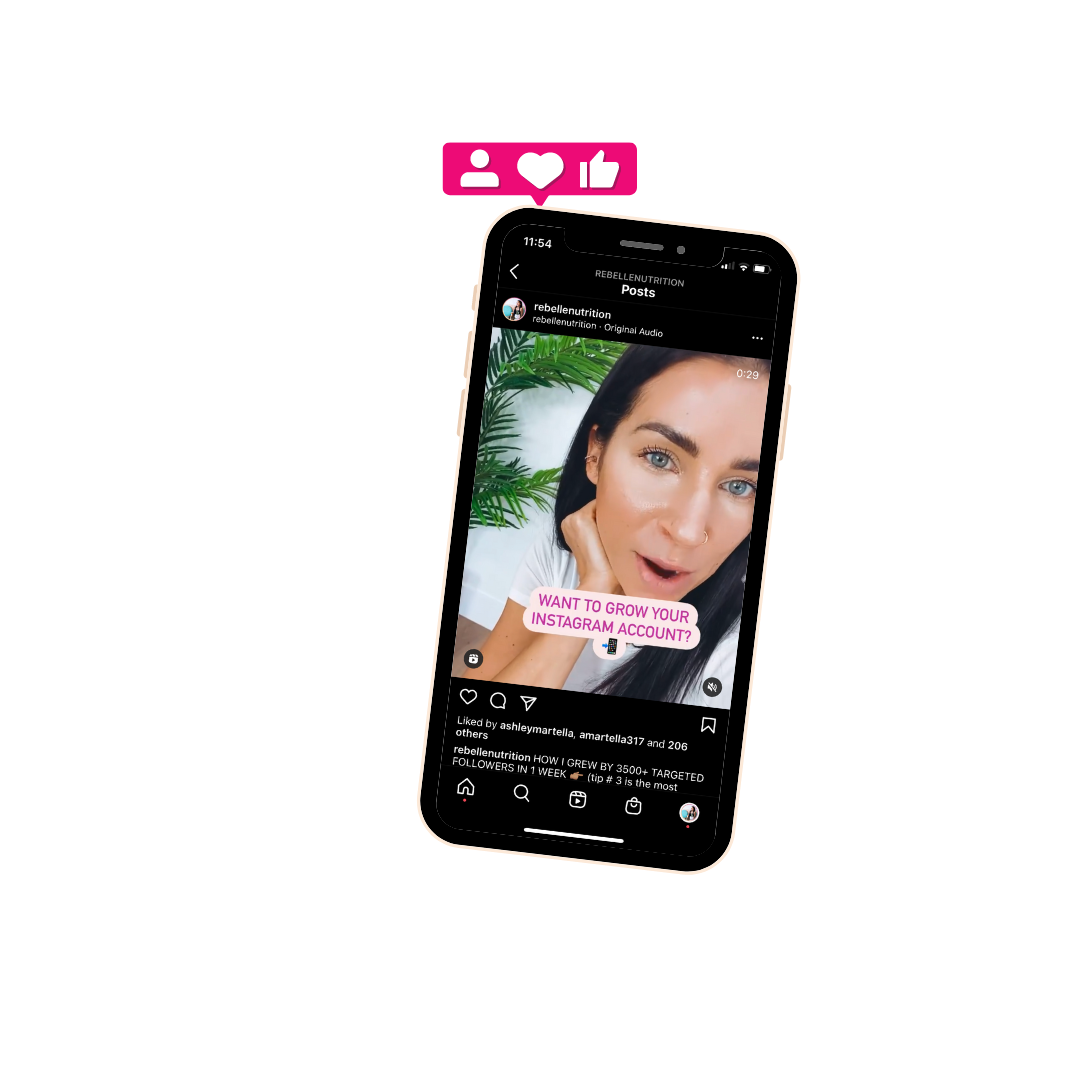 The best part? They can be used for ANY social media platform!
Wait, there's more!
The second way that the DDN membership helps you grow your social media presence is via the private community:
Inside the growing community, you can feel free to share ANY and ALL of your new social media posts + get instant engagement from the other members.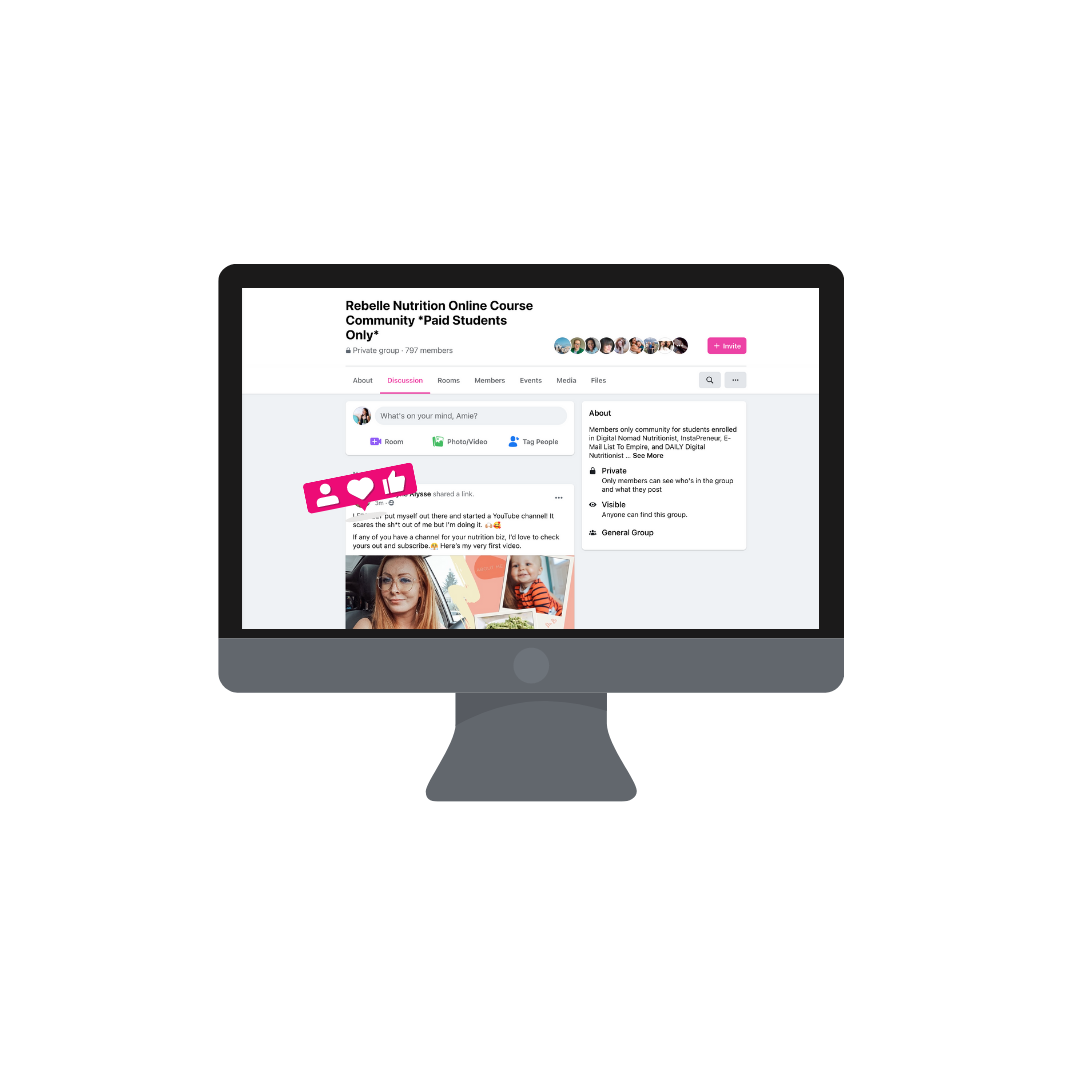 *All that we ask is that for every time you post your own content, you interact with at 2 other members content as well.

Introducing...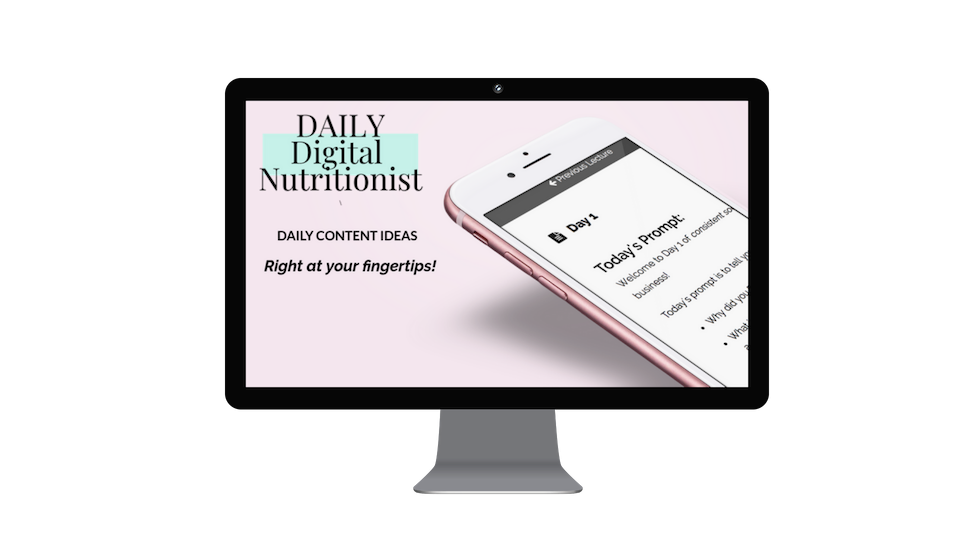 DAILY Digital Nutritionist
A Monthly-Membership that provides...
DAILY Social Media Prompts (for *any* platform)
Strategically Geared Towards Helping You Build Your Audience, Income, and Impact Online!
This is a MONTHLY membership (kinda like Netflix!) so once you click "enroll in course", you'll get immediate access to your first month of content 'prompts' (aka ideas/questions/inspiration aimed at growing your audience online!)
Use these 'prompts' to inspire content for your Instagram account, Facebook, Youtube, blog, podcast, Reels, really wherever you are active online (all for around $1 a day!

)
Your subscription will renew + bill every 30 days automatically, and as soon as it does - you'll have access to the next month of *entirely brand new* prompts (cancel anytime!)
As soon as you enroll, you'll be invited into the private community where you can share ANY and ALL of your new social media posts + ask for engagement (just remember to share the love on other's posts as well!)
This monthly membership lasts 365 days total - after that time, your payments will end, and you will continue to have access to all the content you paid for!
Here's what you can expect from this membership-style online course:
Receive daily social media content 'prompts' that are strategically designed and planned out to help you...
Connect with your ideal client/audience
Provide the exact, value-based content they are looking for
Position yourself as an expert in your niche
Clarify your brand messaging
Prep your audience for paid offer (so they are ready to click "buy now!"
Stay CONSISTENT on social media
Grow a loyal and engaged following
Build a strong personal brand (what do you want to be known for?)
Generate more sales from your products, coaching, or courses
and most importantly...
Grow your online impact + income in less than 15 minutes a day!
REMEMBER: This is a monthly-membership. So if you enroll on the 15th of the month, your next payment will come out on the 15th of the next month. Cancel anytime easily - right from your account!
*However, if you cancel before the 12 months is up, you will lose access to the previous months' content
Questions you might be wondering...
Q: "I'm not on Instagram - will this membership still work for me?!"
A: These prompts aren't *just* for Instagram! They can be used to create content on whatever your favorite platform is: YouTube, Facebook, TikTok, your own blog, or even your own podcast!
Q: Can I see an example of what a "prompt" looks like?
A: Of course!

Q: "What happens after the 365 days have passed?"
A: You'll still have access to everything you paid for, but your monthly subscription will end! And don't worry - you'll have more than enough content to keep going :)
Q: "What happens if I decide I want to cancel my membership?"
A: If for any reason you want to end your membership, you can cancel at ANY TIME by sending an e-mail to [email protected]!
Q: "What if i'm not a certified Nutritionist yet, is the membership still going to work for me?"
A: YES! As long as you want to have an online business and grow your social media presence (no matter what your qualifications or niche) this will be a perfect fit for you!
Q: Will my social media posts be the exact same as everyone else who enrolls in the membership?
A: Nope! Remember, these are prompts, not copy + paste templates, so creativity and making them your own is encouraged!
PLUS - at the beginning of each new month you'll gain access to the entire month of prompts at once, so you can go in order OR pick and choose which prompt is speaking to you that day!
Still have questions? Send an e-mail to [email protected] or chat with the Rebelle Nutrition team on the sales page!